11th March 2022
Dolby Atmos – Immerse yourself in sound
Bowers & Wilkins Panorama 3 is our first Dolby Atmos equipped sound bar. In this guide we introduce you to Dolby Atmos, explain what it delivers and how you can enjoy it at home.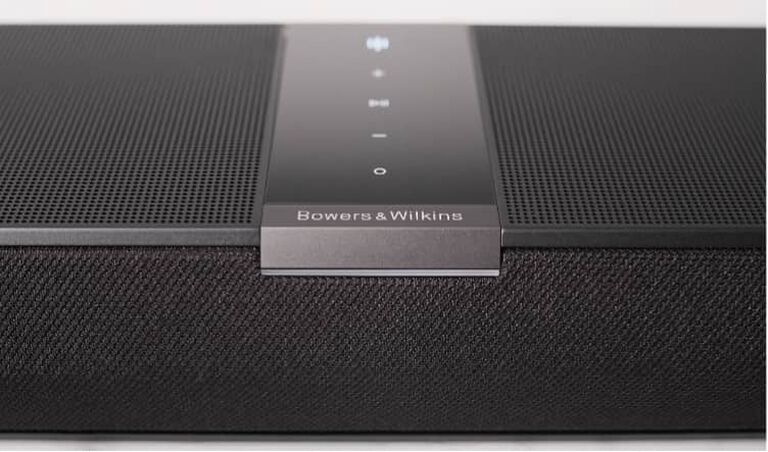 Dolby is understandably bold on the subject of Atmos, claiming that it is "the most significant development in cinema audio since surround sound." That's great, but from the listener's perspective there are some important questions that need answering: such as, what is Dolby Atmos, what does it bring to the listening experience, and how do I get to hear it at home? This blog sets out to answer those questions and more, starting with….
What does Dolby Atmos bring to the listening experience?
Okay, let's start with the seemingly obvious: we hear in three dimensions. To help you understand this, imagine you are standing in a room, say your kitchen, with a relatively normal height ceiling. If you then walk out your door and into your garden, you can tell the difference in the sound immediately. Even if you did it with your eyes closed, you would know when your environment changed. That's because that extra sense of space and height is key to how our hearing works.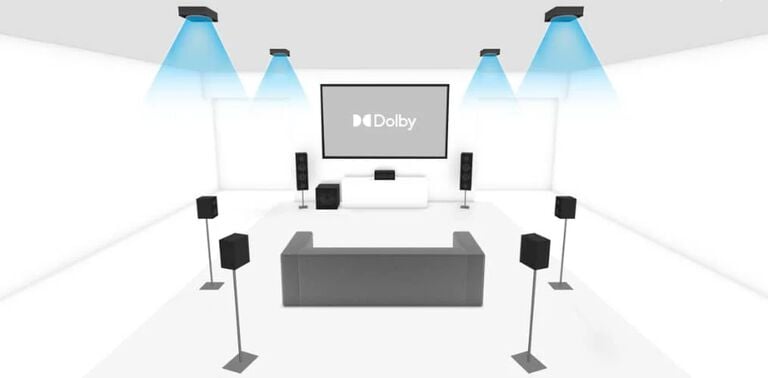 Space and height is what Dolby Atmos brings to the surround sound party: it makes the illusion of the audio track work in more than two dimensions. And that is what to our eyes – or ears – makes it so good: it makes the listening experience seem more realistic, allowing you to be completely immersed in the sound, and to be further convinced that what you are listening to is real.
Okay, so Dolby Atmos can be used to deliver firecracker special effects and dramatic atmospheric touches such as rain. But not every film is Bladerunner, and it's actually the subtler, more enveloping elements that Dolby Atmos does so well that we like the most. But how does it do it…
What is Dolby Atmos?
Atmos is a new surround-sound technology, one that expands upon the existing 5.1 and 7.1 surround-sound set-ups with the addition of overhead surround channels. These additions treat the listener to an even more immersive experience, with an enhanced sense of height, depth and positioning when compared to standard surround sound set-ups.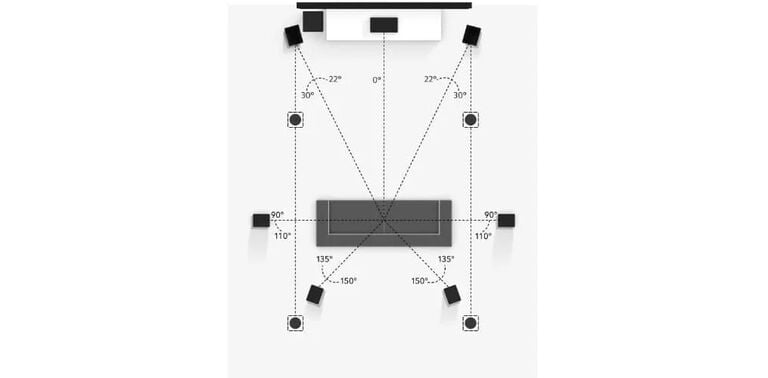 With traditional multichannel audio, channels correspond to specific speaker locations. If, for example, the mixer wants the sound to come from the Left Surround speaker, they locate the audio in the left surround channel. If a mixer wants the audio to appear as though it is coming from between the Left Surround and Left speakers, they pan between the two to create a phantom image. Traditional multichannel audio is utilised in Dolby Atmos; these channels are referred to as 'bed' audio.
However, in addition to bed audio, Dolby Atmos introduces the concept of object-based audio. Object-based audio is not panned directly to (or between) channels. Instead, object-based audio is captured with panning information recorded as X, Y, and Z coordinates (the Z-axis being elevation or height). These X, Y, and Z coordinates, along with Object size, are recorded along with the audio as Object Audio Metadata (OAMD).
The result is a more realistic three-dimensional listening experience, where rather than just getting the sense of, for example, someone revving an engine somewhere to your, you get a dramatically improved sense that the engine really is on a ridge just above you.
It really is thrilling experience, however, more channels obviously require more speakers, and in theatre locations around the world extra speakers have been placed along walls (at all heights) and even behind the screen itself. In fact, up to 400 speakers can be found in use in the top Dolby Atmos cinemas. But one of the crucial points about Atmos is that you can place speakers directly overhead in the ceiling, enveloping the audience in a dome of sound. And what is true for the cinema, is also true for your home. More of which later, but first…
A little history
The very first Dolby Atmos installation was built for the June 2012 premiere of the Disney/Pixar animated film Brave, in the suitably named Dolby Theatre in Los Angeles. There are now more than 6,000 Atmos-enabled cinema screens in 90 countries. In the UK, the Odeon Luxe Leicester Square was the first Dolby Cinema, which partners Dolby Atmos with Dolby Vision – another Dolby initiative that claims to produce a subtler, more sophisticated image than standard High-Definition, and can be experienced in selected cinemas and is also the chosen high-definition format of Netflix.
Dolby Atmos also, rather obviously, has the storied reputation of Dolby behind it. So while there are rival formats that aim to add height to surround sound, Dolby has a track record for delivering on codecs and technologies, and has the infrastructure in place to support the technology. As a result, Dolby Atmos is widely supported by content creators and distribution channels, right the way through to hardware and device compatibility, including AV receivers, and of course, loudspeakers and sound bars. Which leads us on to the big question of…
How do you experience Dolby Atmos at home?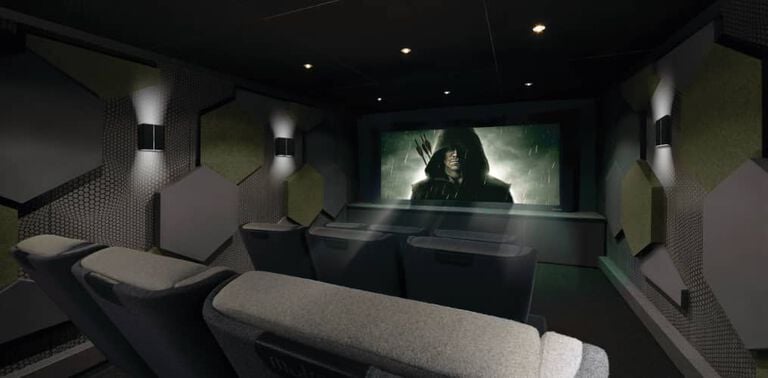 The good news is that we can all get a taste of that extended movie theatre sound at home. Whether you are looking to add to an existing surround sound system or home theatre, or starting fresh, it's relatively simple to achieve highly impressive results.
First and foremost, you'll need to determine how many additional loudspeakers you can accommodate in your home set up. There are numerous ways to achieve this, the key options being in-ceiling loudspeakers or add-on modules for your existing front and rear loudspeakers, in each case driven by a suitable AV amplifier or receiver capable of decoding the Dolby Atmos signal.
A particularly appealing alternative if you want a home theatre system but are limited for space is purchasing a sound bar with Dolby Atmos compatibility. Which we can certainly help with …
Panorama 3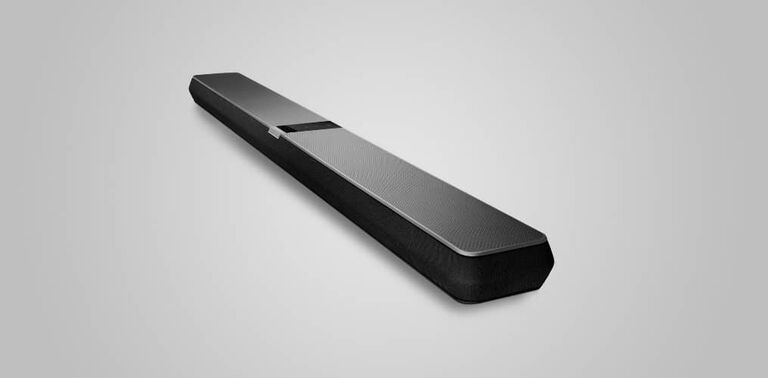 A Dolby Atmos capable sound bar is without doubt the simplest method of accessing the extra levels of immersive experience that come with the more realistic, 3-D approach to surround sound. Say hello to the Bowers & Wilkins Panorama 3, our first sound bar to feature Dolby Atmos spatial audio.
Panorama 3 draws on Bowers & Wilkins decades of expertise working with world-famous recording studios to create some of the most famous and iconic film sound ever. It offers true Dolby Atmos capability with upwards-firing drive units optimised to deliver the best possible immersion with spatial audio. Its single-box enclosure offers powerful bass with no need for an external subwoofer, so you get all the high-quality sound you need from just one component. We do have other options though…
In-ceiling loudspeakers
If the sound bar route isn't for you, or if you are looking to build on a surround sound system that you already have, then the most elegant option is the addition of in-ceiling loudspeakers.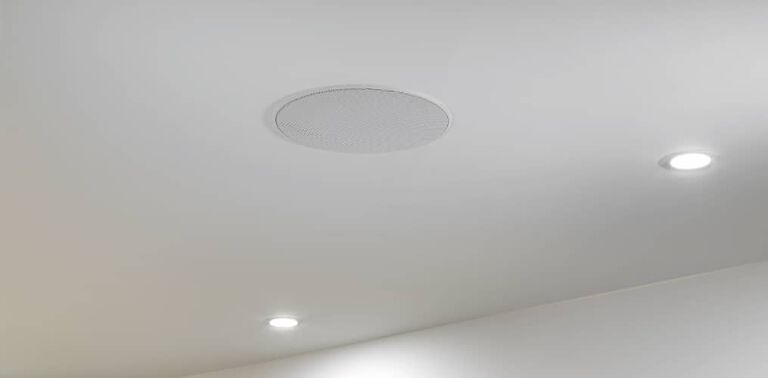 While two in-ceiling speakers – acting as extra rear units – will certainly delver a taste of the benefits of Dolby Atmos, it's with four speakers that the real difference is heard. Positioning the four in-ceiling speakers in a quadrant around your key listening position helps to create the extended envelope of sound that we love so much about Dolby Atmos, allowing you to sit right at the heart of the 3-D action. As you would expect, Bowers & Wilkins has a wide selection of custom installation loudspeakers that can fulfil this role, and we also have access to the very best installers around the world who can make your Dolby Atmos home theatre dream a reality. All of that will allow you to sit back and enjoy the wide selection of Dolby Atmos music and movies on offer, talking of which….
How to access Dolby Atmos content
There are currently over 500 theatrical releases that benefit from Dolby Atmos, and numerous ways to access that content at home. You may even be already accessing Dolby Atmos content without even realising it via your chosen streaming service – Netflix, Amazon Prime Video, Disney+ and Apple TV+ all offer Dolby Atmos content, as does Sky in the UK, which has a large selection to rent or buy.
Another option for is purchasing Dolby Atmos enabled films on Blu-ray – including Ultra HD 4K discs. Titles are plentiful and becoming more so, but why not check out Dune or Bladerunner 2049 for a taste of what the format has to offer when well utilised.
But it's not all about movies….
Dolby Atmos Music
Dolby has also developed Dolby Atmos Music, which is essentially a process of remixing songs using Dolby Atmos technology. An ever-increasing number of tracks can be found on Tidal, Amazon Music HD and Apple Music.
The benefits are the same in many ways as with movies – the extra height and 3-D sound we love – but with music comes the addition of surround sound first, something we know many people can take or leave.
Whatever your views on surround sound music, once you have experienced Dolby Atmos movies at home, it very quickly becomes a must-have for the dedicated movie fan. How you get it, well, that's for you to decide.
Browse some of our related articles