10th May 2023
Beyond the Curve: Celebrating 30 Years of Nautilus
Icon. Legend. Inspiration.
True craftsmanship is an emotional as well as physical undertaking. Whatever the scale of the project, the process of crafting something that generates deep emotional responses is best served by a team that is equally passionate.
It was in 1993 that a small team of Bowers & Wilkins engineers finished a five-year project to craft something special of their own. The same year Buckingham Palace opened its doors to the public; the same year Nirvana released their excellent third and final studio album, In Utero; the same year Al Pacino was awarded an Oscar for Best Actor at the 65th Academy Awards; the same year Nautilus was born.
Now, three decades later, we celebrate a special milestone in the Nautilus story – the 30th Anniversary of the world's most iconic loudspeaker.
Form driven by function
From the very start of his career in loudspeaker design, John Bowers understood that the design of a speaker's cabinet greatly influences the quality of the sound it produces. So crafting the theoretically perfect loudspeaker design, however challenging that might be to deliver in practice, became an aspirational target for our development team – a quest that would be continued after John himself had sadly died.
And this was the fundamental idea behind Nautilus. Its distinctive form is not there to attract attention or create desire: it's driven solely by function. Indeed, the ideals that defined it 30 years ago – the pursuit of creating the perfect loudspeaker – still runs through everything we do today.
That said, and engineering niceties aside – there's also an undeniable aura, almost a mystique, around such a striking loudspeaker shape. When you're faced with a design as extraordinary as that of Nautilus, one that well and truly breaks the mould, it's all the more fascinating to imagine how it's made – let alone how it feels to make one.
Thinking outside of the box
The initial brief for Nautilus was extraordinarily broad. Come up with the best speaker. Create a speaker that doesn't sound like a speaker. That's pretty much it – and this is where one of the key contributors to the Nautilus story came to the fore.
Laurence Dickie – or Dic, as we all call him – was enlisted by John Bowers to handle the Nautilus project. In his own words, Dic was given "incredible freedom" to do as he wished to ensure that the end goal was achieved – and that's exactly what he did. Unconstrained by the limitations of a conventional project and thinking – quite literally – outside of the box, Dic began working on the innovative tapering tube and spiral design that's become so recognisable to lovers of sound the world over.
Although a key figure at the Steyning Research Establishment (SRE) and part of a 25-man strong team, Dic spent a significant amount of time working alone on every aspect of the Nautilus, from its revolutionary tapered tubes that allow the drive units to work optimally by gently absorbing unwanted energy to its striking, minimalist frontal aspect that helped optimise dispersion. To this day, many of the key technologies found in Nautilus, and crafted by Dic, are found in almost every speaker we make.
Over the years, decades of passion and expert craftsmanship have gone into making our Nautilus loudspeakers, with each pair hand-made, sprayed, polished and tuned at our Worthing, UK factory. There are intricate steps that go into creating such an iconic loudspeaker, meaning each member of our team of dedicated Nautilus experts has an integral part to play throughout the process. It's the people who make Nautilus what it is in every sense of the word.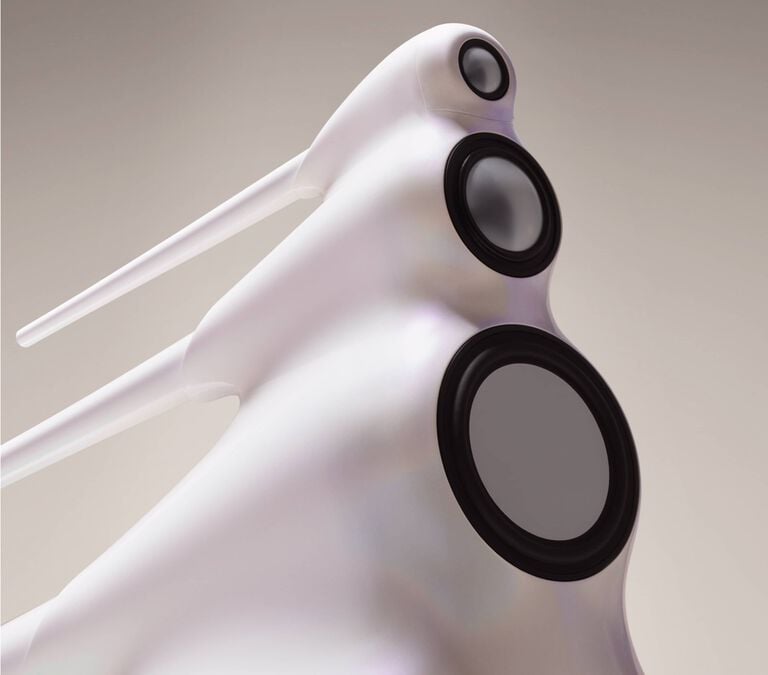 To say we've made the 30th Anniversary Edition of Nautilus is extremely special.
A labour of love
Nautilus starts with Nautilus Builders Rob Algeo and Alfie Hammond. "It's such a pleasure to be a part of this," they explain about their involvement in this Nautilus milestone. "To say we've made the 30th Anniversary Edition of Nautilus is extremely special – it's quite a proud moment."
On its journey to completion, the loudspeaker passes through the hands of numerous craftsmen. Mark Hazell, a longstanding Nautilus Sander, who's worked on hundreds of the legendary loudspeakers, sands the casing to an immaculate standard, explaining that "every single one has to be made by hand. You have to feel what you're doing to get the shape."
Once Nautilus is sprayed by hand by Dave Funnell, it's left to dry before it's time to hand over to Nick Curling, our Nautilus Polisher, who has worked on this loudspeaker design for over seven years. Nick spends hours carefully polishing the shimmering exterior to mirror-like perfection. Bringing excellent sound quality to the carefully crafted design, Darren Evans, another Nautilus Builder, constructs the physical speaker from the elements provided by Rob, Alfie, and the dedicated team who make the four drive units for each speaker.
Finally, to ensure that each Nautilus delivers optimum performance, Dave Naylor, a Quality Engineer on Nautilus, rigorously tests the elements of the loudspeaker. The result: a true representation of everything we stand for, a symbol of our quest for True Sound and the last wish of our founder, John Bowers.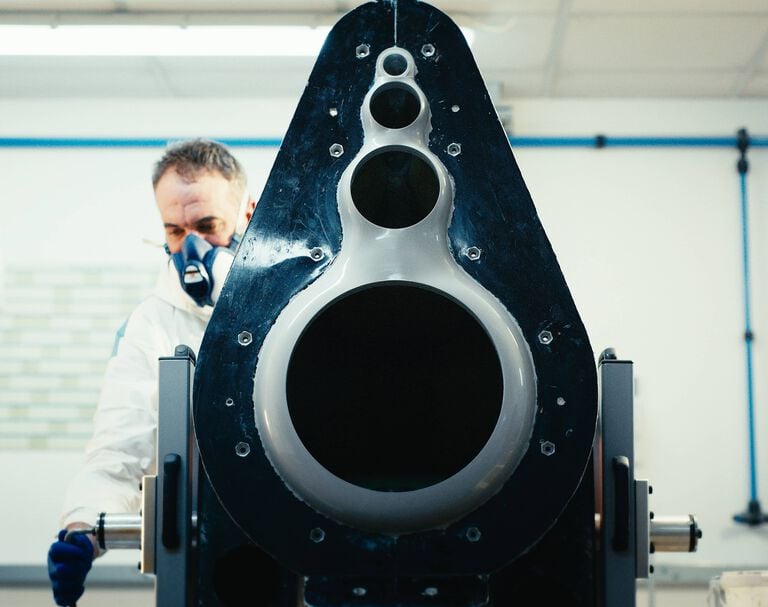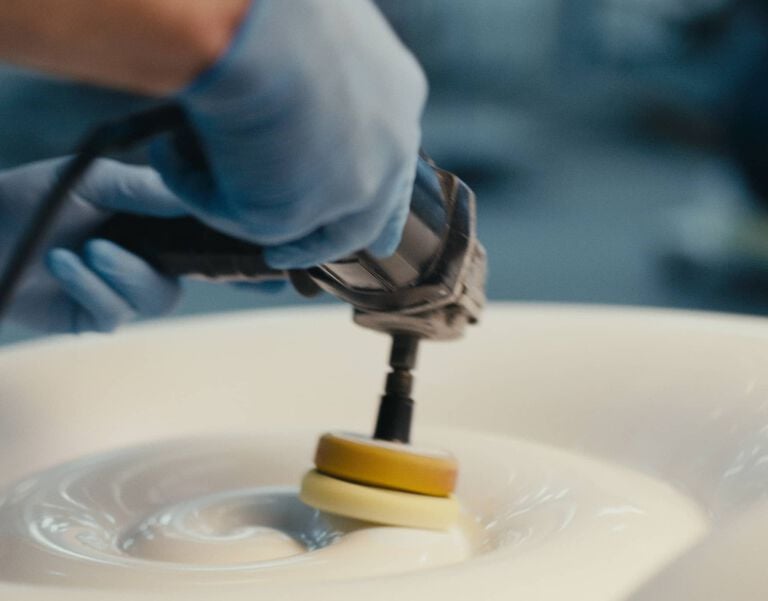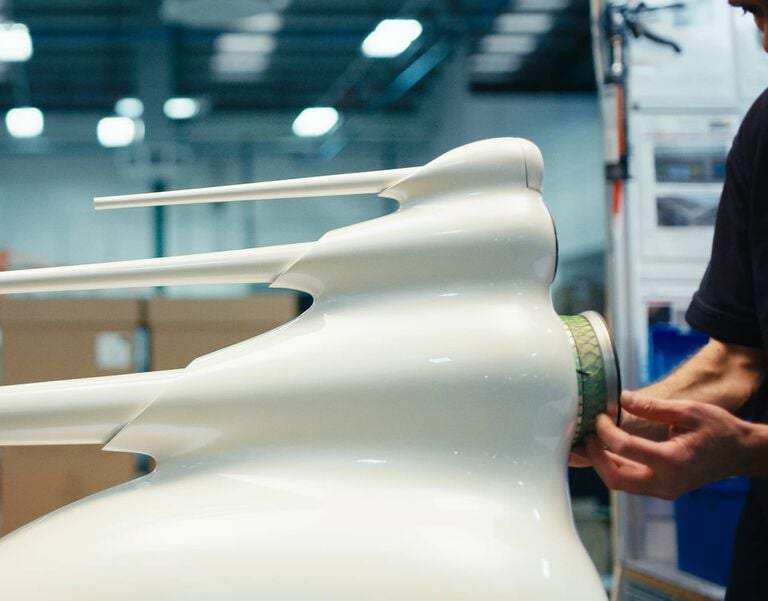 30 years of Nautilus
To honour the 30th Anniversary of Nautilus, we've created a one-of-a-kind pair that brings a new distinctive colourway to the Nautilus legacy. It features a shimmering Abalone Pearl exterior, directly influenced by the inside of the marine creature it takes its name from, and, as is the case with all our Nautilus loudspeakers, it was hand-crafted by the dedicated Bowers & Wilkins team at our HQ.
Very few would dare to make something so bold. Admittedly, Nautilus is bold, even for us. Its form may be pure art, but it was defined by the science of sound, remaining a constant reminder of what's possible. With no limits or constraints, Nautilus embodies everything Bowers & Wilkins stands for: a no-holds-barred approach to creating the perfect loudspeaker. It represents our fundamental purpose – and our passion for True Sound.
In our new film, Beyond the Curve, we met with key contributors to the Nautilus legacy to delve into the rich history behind its pivotal design. Additionally, to spotlight the latest Nautilus milestone, we follow the process of creating our 30th Anniversary Edition pair and speak to the craftsmen involved about just how special it feels to work on such a celebrated and iconic loudspeaker.
Browse some of our related articles