6th March 2023
Bowers & Wilkins and McLaren Automotive: The Pursuit of Perfection
Uncompromising performance has always been at the forefront of Bowers & Wilkins and McLaren's iconic designs. It's this passion for outstanding performance that's helped forge an enduring relationship between the two brands, culminating in some of the most desired automotive audio systems industry-wide.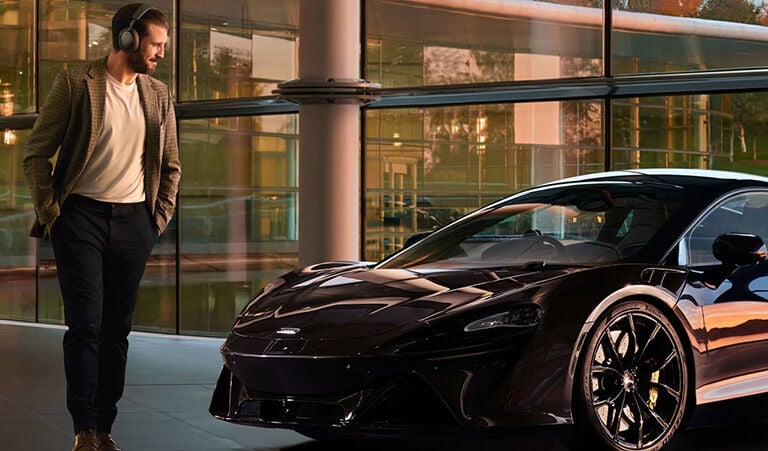 Uncompromising performance has always been at the forefront of Bowers & Wilkins and McLaren's iconic designs. It's this passion for outstanding performance that's helped forge an enduring relationship between the two brands, culminating in some of the most desired automotive audio systems industry-wide.
Rewarding beginnings
To create the best in-car audio system, you must start at the beginning. Becoming an integral part of the design process is paramount to bringing superior sound quality to the finished artefact – and that's why Bowers & Wilkins offers its expertise in crafting world-class audio systems from the outset. Bowers & Wilkins and McLaren's engineers begin working together four years before the launch of a vehicle, as the earlier we can identify optimum locations to house our speakers, the better the final sound performance will be. This process involves extensive research and development, testing and fine-tuning to ensure that our systems are seamlessly integrated without compromise. It begins with the design phase, where the engineers seek out the best possible locations to fit our drive units, be it in the footwells, doors, headrests and more. The specific requirements for the audio system are then carefully outlined before advanced computer modelling and simulations are used to create virtual prototypes of the system. Once the system is developed and integrated, it undergoes rigorous testing in different environments to ensure maximum performance.
There's much to consider – what can you add without taking too much away from the overall performance? Space and weight are certainly a constraint when merging two category-defining technologies. McLaren will fight for every gram of weight they can save whilst we strive to occupy as much real estate within the vehicle as possible – and provide performance audio that complements its powerful engine. Bowers & Wilkins' state-of-the-art technology can compensate for this. Using the lightest components possible, such as our Nautilus™ Aluminium Double Dome tweeters, as well as our rigorous speaker integration process that ensures a clear passage of sound, we're able to reduce weight whilst providing unmatched sound clarity. We incorporate the same care and precision seen in our loudspeakers into all our in-car audio systems.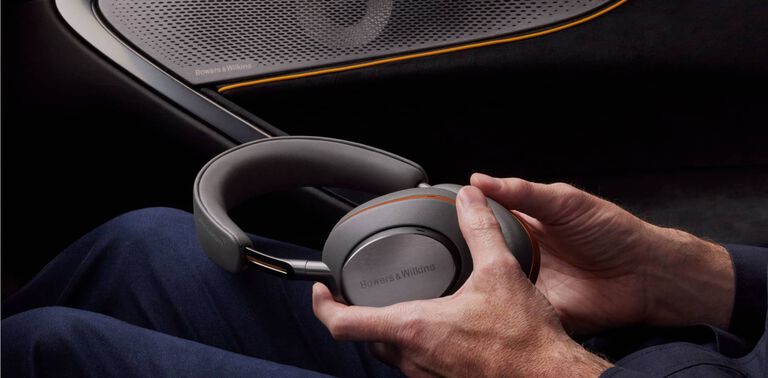 Enter Nautilus
Bowers & Wilkins was first integrated into McLaren's supercars in 2015 when the automotive brand sought to create an in-car sound system that would match the performance and premium quality of their vehicles. Most notably, this vehicle was the 540C – a car that paired lightweight construction with a potent mid-mounted V8 engine, providing the best power-to-weight ratio of any sports car in its class. And now, with True Sound capabilities seamlessly built in.
The audio system for the 540C, part of McLaren's Sport Series, was the first of its kind. It featured our famous Nautilus™ technology, more commonly found in our award-winning Hi-Fi loudspeakers, as well as our Tweeter-on-Top design, best known from our 800 Series loudspeakers, to minimise acoustic reflection from the windscreen, resulting in a sound that's more detailed, natural, and truer to life. To help cater to the listening needs of the driver further, this sound system included three sound presets - Studio, Stage, and Driver Focus. Your music as you want to hear.
Fitting such a unique and advanced sound system into the equally advanced architecture of a McLaren sportscar was no easy task, but as masters of our craft, we rose to the challenge.
As a result, what began as our first audio system for McLaren Automotive became integral to the cars in this series, featuring in the 570S and 570GT, followed by the 600LT, and then 720S in the new Super Series in 2017. Significantly valued by the team at McLaren Automotive and their users, Bowers & Wilkins speakers became a highly demanded addition to the automotive vehicles' design process, solidifying our partnership.
The pursuit of perfection
The 720S and 765LT (2020), as well as the 720S Spider and 765LT Spider (2021), saw us apply our tried and tested methods to the McLaren Super Series. In addition to decking out the doors and vehicle centre with Nautilus™ tech, this time in the form of our Double-Dome tweeter technology, as well as five Aramid fibre midrange drivers and dual voice coil Rohacell bass drivers, the McLaren 720S included some brand-new and advanced features.
We introduced our Micro Matrix bracing system, used to increase enclosure stiffness and damping and provide a cleaner, enhanced sound. Where the carefully designed counterparts of a speaker work together, they must be protected. Rigorously crafted half-a-millimetre-thin stainless steel grilles shield this in-car system whilst allowing optimum listening for the driver.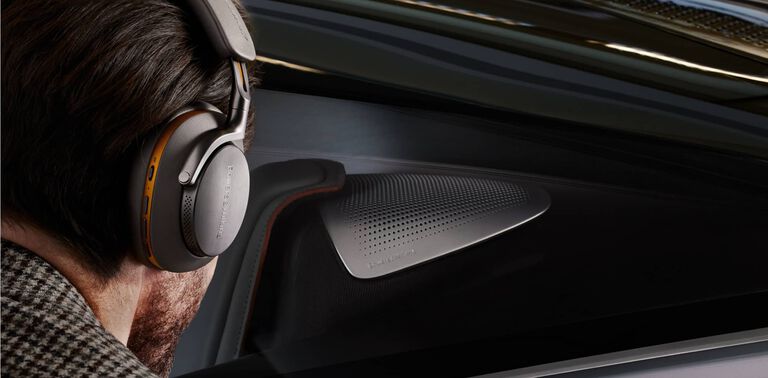 Picking up pace
In 2018, we joined forces with the automotive brand again, incorporating our speakers into the McLaren Senna – with some additional upgrades to cater to the lightweight system design. Five Nautilus™ Aluminium Double Dome tweeters, precisely located inside the cockpit, were incorporated into the McLaren Senna, offering crystal-clear, authentic high notes – with minimal distortion. Nautilus™ integration, complemented by perfectly placed Aramid fibre cones in the doors and centre of the vehicle, meant that with only a seven-speaker system, the Senna offers a truly optimised listening experience. After all, when it comes to the performance of a car sound system, the quality of the design and construction of the drive units is far more significant than the number of speakers.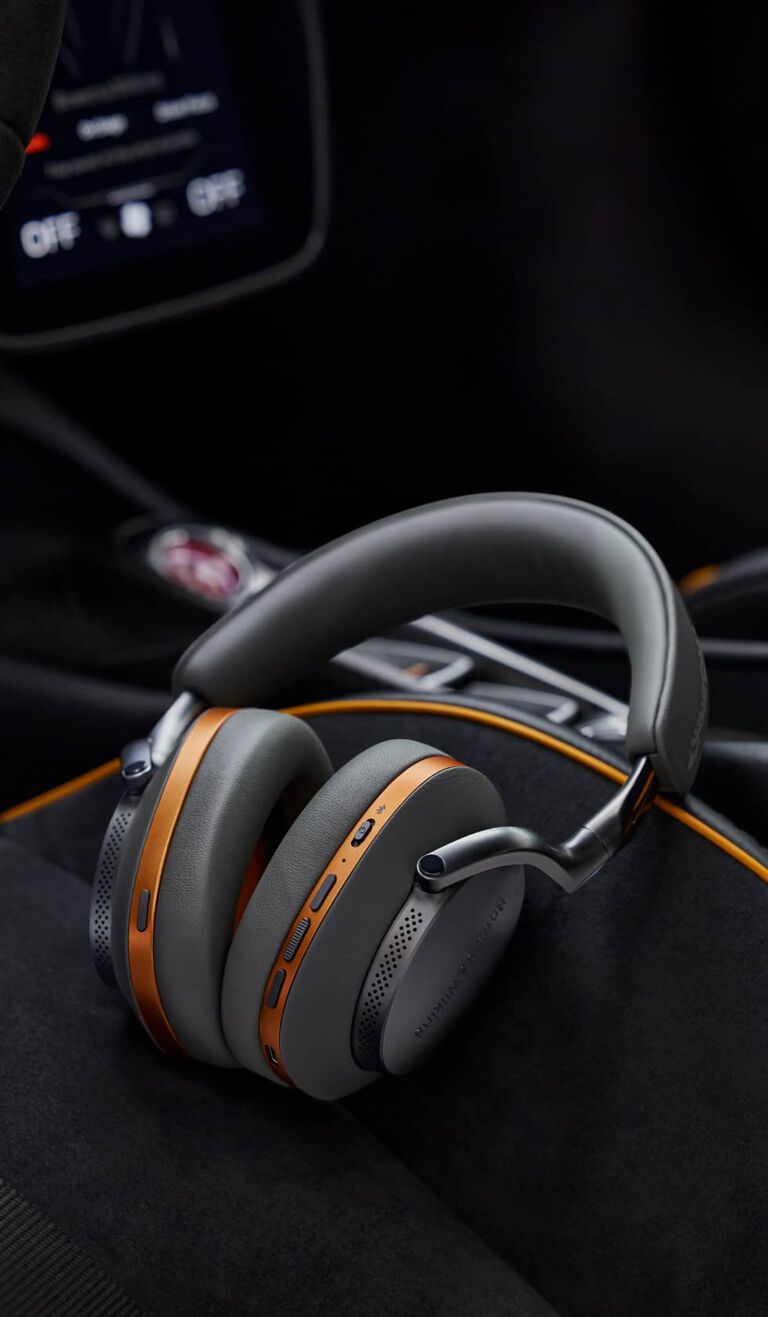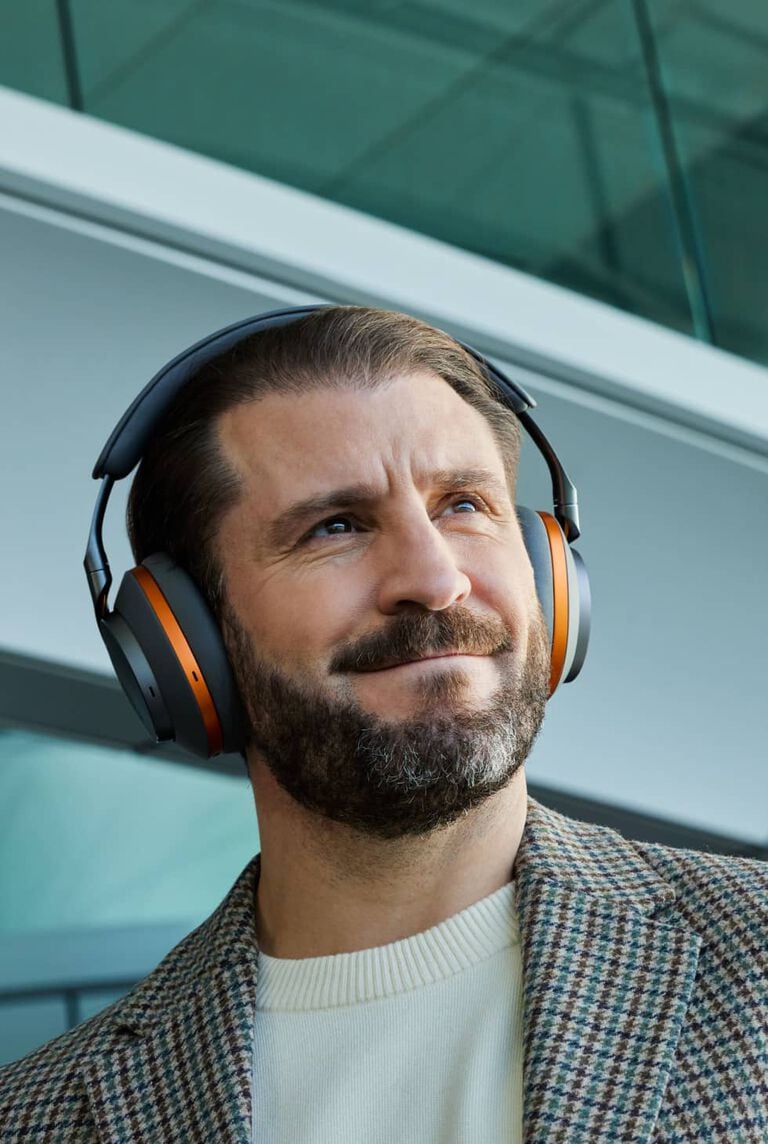 Recognised performance and diamond design
In 2020, following our integration with McLaren's 600LT which featured the same innovative audio technology found in the 570S and 570GT, Bowers & Wilkins secured two iF Design awards for exceptional, seamless integration with McLaren's GT (2019) and Speedtail (2020) - most notably for the custom-made speaker grille design and unforgettable central listening experience, achieved through ground-breaking work between both Bowers & Wilkins and McLaren's engineers.
It wasn't just the iF Design awards that recognised the McLaren GT's powerful sound system as exceptional. According to Andy Madden from What Hi-Fi?, our Tweeter-on-Top tech in this vehicle complements the "expressive and powerful set-up" and "really helps those high frequencies breathe". Continuing his review of Bowers & Wilkins' integration with McLaren Automotive's GT, he explains: "when it comes to designing a supercar, you'd be forgiven for thinking that the in-car audio performance would fall way down on the list of priorities, but this collaboration between McLaren and Bowers & Wilkins actually goes to show that that couldn't be further from the truth." Our involvement in the process from the beginning is essential.
When it comes to the McLaren Speedtail, in addition to the previously mentioned award-winning features and the first incorporation of our Continuum® Cone technology into McLaren, the McLaren Speedtail is renowned for something else – its Diamond Dome tweeters. Truly ahead of its time, the Diamond Dome tweeter is very light and rigid - and, as the name suggests, is forged from real diamond. Diamonds take millions of years to form, but by incorporating our collaborative production process with Element 6 scientists, we were able to streamline the journey. Using chemical vapour deposition and controlled temperatures as hot as the surface of the sun, incredibly thin diamond material can be forged and used to produce our Diamond Domes, enhancing the clarity of our speakers' frequencies. Made famous by our 800 Series Diamond range, this innovative technology can now be enjoyed on the track.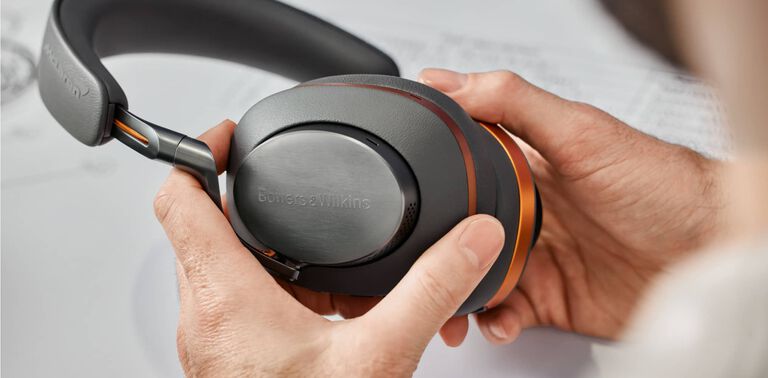 Quality assured
Whilst McLaren's automotive vehicles are some of the most powerful cars in existence, you may be surprised to know that they're not as loud as you'd first think. Following the advent of the electric car, McLaren has adapted to this evolutionary change by creating a hybrid model - the McLaren Artura. As cars get quieter, the sound systems that accompany them become more and more important, meaning Bowers & Wilkins' partnership with McLaren is more vital now than ever.
In our most recent in-car collaboration with the automotive brand, we channelled our passion for great-sounding audio into this Carbon Fibre Lightweight Architecture (MCLA) powerhouse. During our pursuit of perfection for car audio, we've certainly got some things right – and that's why Artura features many of our proven practices to assure quality. This 1400W sound system spans 12 speakers, benefiting again from our Nautilus™ Aluminium Double Dome Tweeters, Continuum® drivers and dual voice coil Rohacell bass drivers – this time, however, protected by tinted brushed satin PVD-coated stainless steel grilles.
Additionally, providing unrivalled bass power to the McLaren Artura, we designed a bespoke sub-bass system that benefits from dual opposed force-cancelling drive units in the footwells to minimise cabinet vibration – compact, space-efficient, and uncompromising. As advocated by Dr. Ian Kuah in his review of the McLaren Artura for Stereo Guide, the addition of this sub-woofer technology provides "dynamic bass performance that underpins the open mid-range and soaring highs." A high-octane addition to a very deserving vehicle.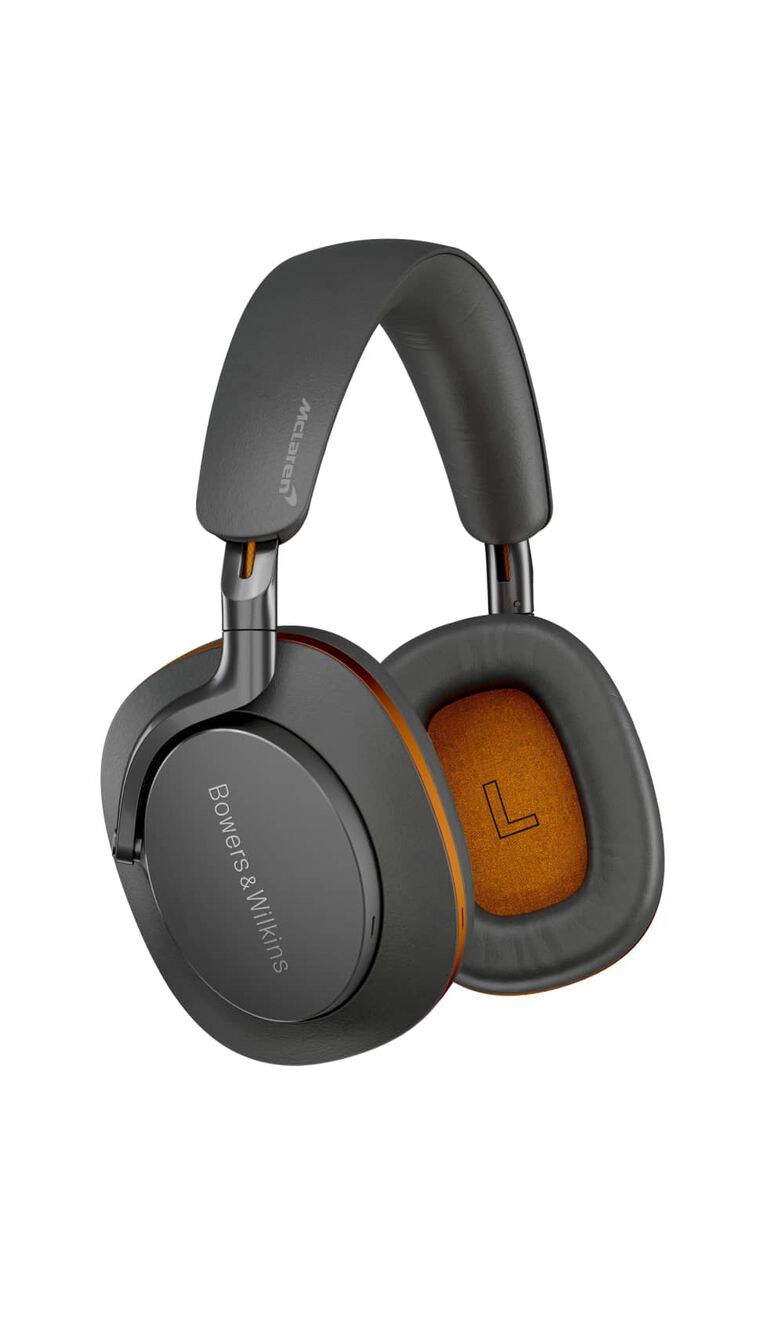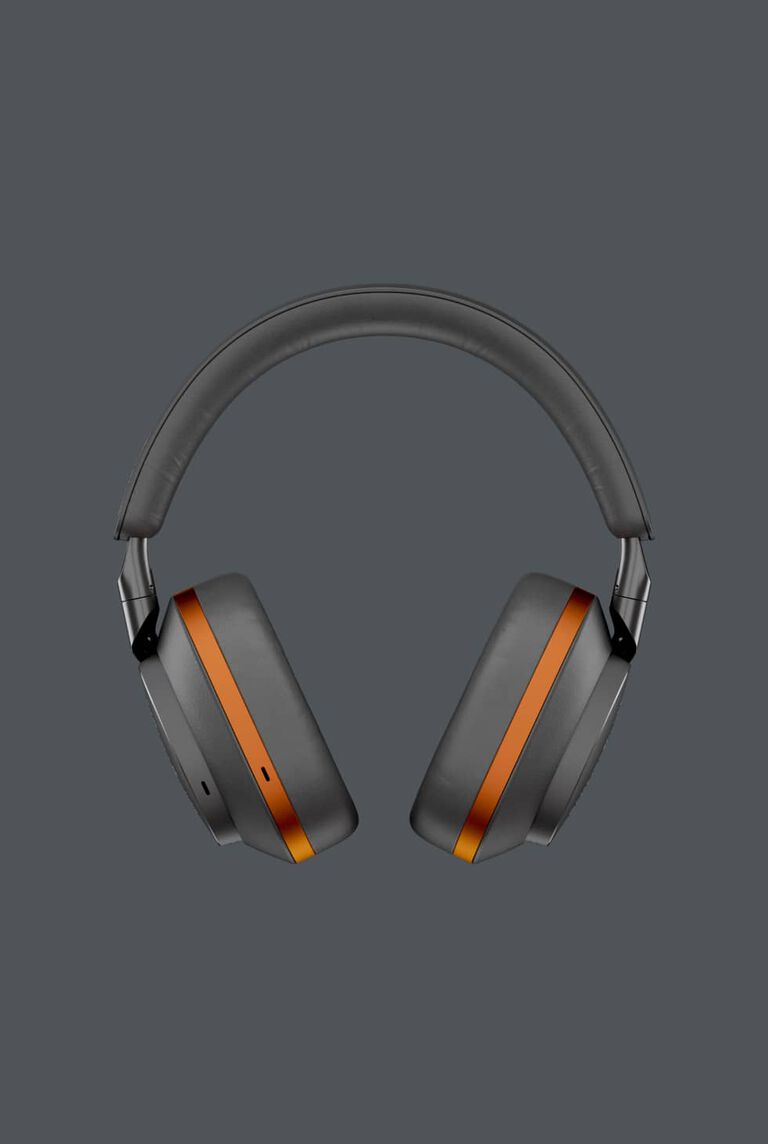 An intersection of ideologies
With our burgeoning relationship with McLaren solidified, the next step in our partnership revealed something truly special – The Px8 McLaren Edition headphones. Joining our established and highly celebrated range of flagship True Wireless Px8 headphones, The Px8 McLaren Edition pairs the performance of McLaren Automotive vehicles with Bowers & Wilkins' unrivalled sound quality. A stylish Galvanic grey finish complements the Papaya orange highlights inspired by the famous Papaya orange, which originated on founder Bruce McLaren's early racing cars. Cast aluminium arms join a discreet tone-on-tone McLaren logo on the headband, completing the headphones' distinct aesthetic. Much like the carefully weighted systems used within McLaren's vehicles to allow for total performance, these headphones were designed with high-quality audio and comfort in mind – the high-resolution 24-bit DSP, partnered with all-new driver technology, perfectly crafted memory foam earpads and fine Nappa leather trim make sure of this. The elegant design features, paired with our True Sound interpretation capabilities, provide the perfect fusion of style and performance.
In our recent video with McLaren, we unveil the inspiration and inner workings of our new collaboration and celebrate a milestone in our partnership.
Browse some of our related articles