10th March 2023
Hi-Fi Essentials 2 – What type of speaker do I need?
In the second part of our series explaining the fundamentals of putting together a great Hi-Fi system, we look at an element that's very close to our heart: what type of loudspeakers do you need?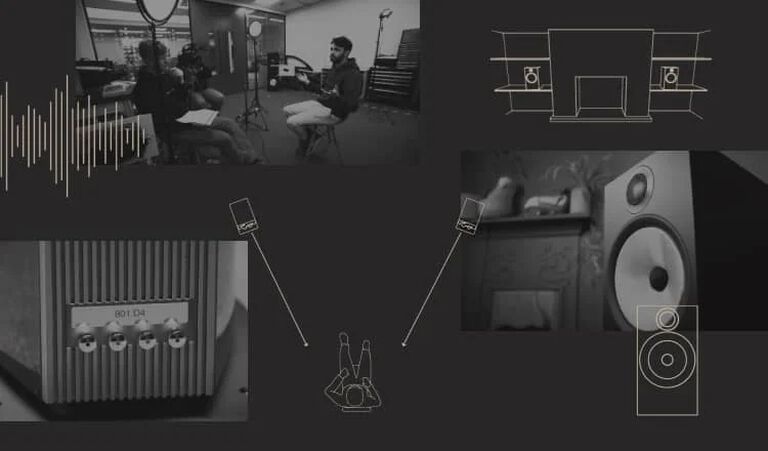 Music or Movies?
Possibly the best place to start when deciding what loudspeakers would be the best fit for you is thinking about the primary use case. You need to ask yourself a simple question: what do you want to use your speakers for, listening to music or watching movies?
If your answer is a clear-cut "I hate movies, bring on the music", or "music isn't for me, let's watch a film" then your decision is a relatively easy one, allowing you to allocate all your budget to one type of set-up or another: stereo for music, surround sound for movies.
However, life isn't always that simple, and you are probably more like us, where you want to enjoy BOTH music and movies… and maybe some TV, live sport and some gaming thrown into the mix as well.
The good news is that when Bowers & Wilkins designs loudspeakers, we ensure that they work well with both music and movies. Okay, so there are some differences, and for example our Panorama 3 sound bar is primarily designed for use with a screen, but even that is very capable of holding a tune, especially with music and concert films.
In which case, the next major factor to consider is how much money do you have to spend?
Think about your budget
Making a decision about whether you watch mainly movies or listen to music is vital when it comes to deciding the allocation of your budget. That's because if music is your primary aim, you could choose to simplify your spend and focus solely on a single pair of loudspeakers. However, if you want the full movie experience, you are going to have to divide that money up between six loudspeakers – or maybe even more – to create a surround sound system.
Let's start with a stereo system based on that single pair of speakers, plus a source and amplification as described here. At Bowers & Wilkins our loudspeaker ranges are carefully differentiated to ensure that you get exceptional value for money no matter how much you spend. Our 600 Series Anniversary Edition is a great place to start your Hi-Fi journey; it offers an affordable introduction to the world of True Sound. At the other end of the price spectrum, our 800 Series Diamond delivers the last word in audiophile quality sound, with the latest in performance-led technologies and luxurious finishes to match.
Both of these ranges also offer surround sound options, with dedicated centre channels and subwoofers engineered to partner them. Indeed, our newest range, the 700 Series, offers a choice of two centre channel models, the HTM71 S3, with Tweeter-on-Top technology to suit the larger speakers in the range and the HTM72 S3, which has been designed with a lower profile to make it easier to install into AV furniture. This two-model approach ensures you can match your centre-channel loudspeaker correctly to any of the partnering loudspeakers in the range, ensuring you experience a more coherent, tonally matched surround sound experience.
Another approach to consider is to play the long game. While surround sound is fantastic, the stereo presentation delivered from a pair of high-performance loudspeakers will be a dramatic improvement over what you hear from any TV. This means you have the option in building up your system piece by piece, starting with a front pair, adding a centre channel, and then surround sound later, before finally going the whole way and getting a subwoofer. It may take a while, but with Hi-Fi it's always worth thinking ahead.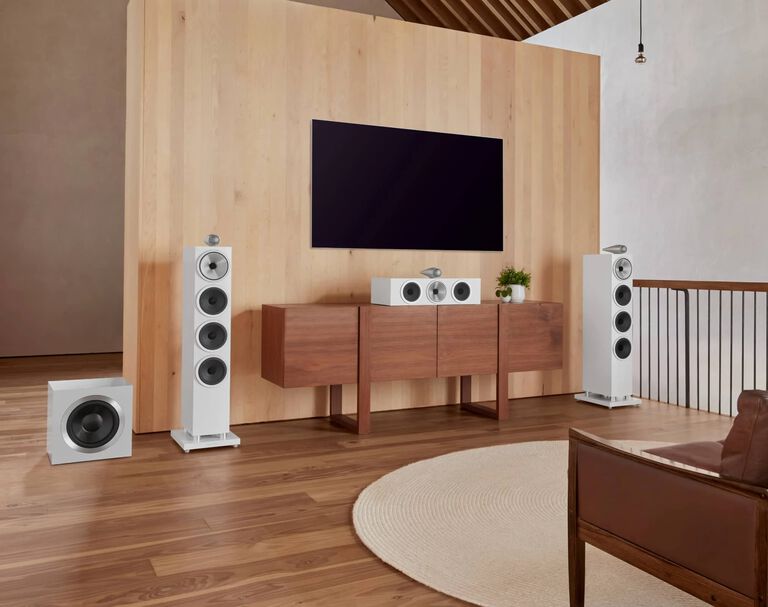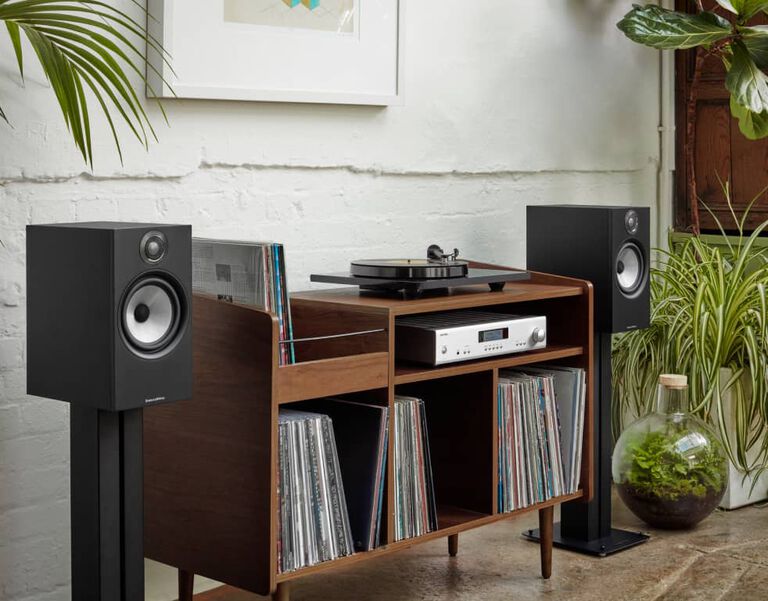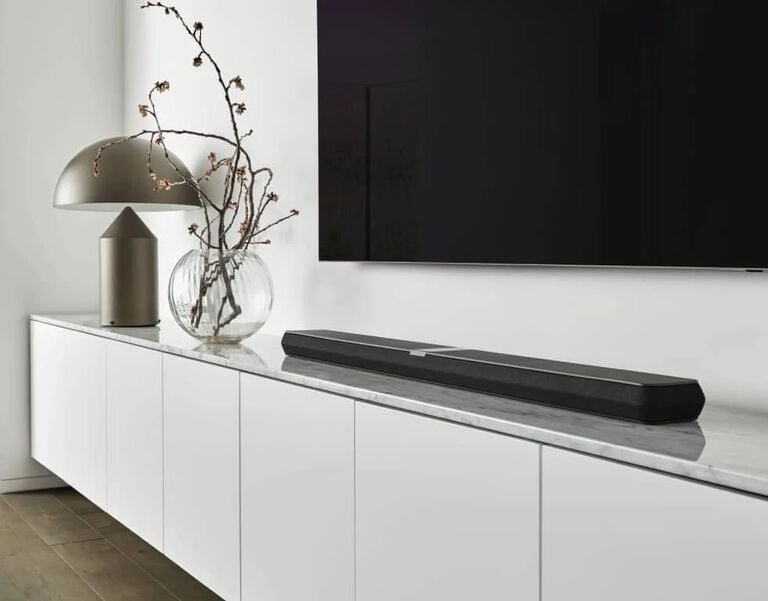 How big is your room?
Loudspeakers don't operate in isolation: they are heavily influenced by the acoustics of your room. That's partially a factor of issues such as reflective surfaces – highly polished floors, for example – which can have an affect on any speaker's tonality. But the size of the room your speakers are going to be installed into is also critical. This obviously has an impact on the size of loudspeaker that you can accommodate: if you are sitting close to your speakers or have to place them on shelves, then smaller models will be ideal. All our ranges feature exceptional standmount and bookshelf loudspeakers designed to work in these environments. The latter are compact models engineered to perform well close to surrounding walls, and even on your shelves. Standmount speakers tend to be slightly larger, but when placed on dedicated stands can also be used near walls and can be located closer together.
If, on the other hand you have a much larger room, then floorstanders, which are capable of moving more air, and therefore going louder, are a sensible way to ensure you can fill your space with sound. Floorstanding loudspeakers feature larger cabinets that contain more drive units, which not only allows more control over the sound (with, for example, dedicated midrange and bass drivers rather than a single mid/bass driver) but are also capable of moving the larger amounts of air required to fill bigger spaces with high-quality sound.
Once you have decided on the correct size of loudspeaker for your room plus your primary listening position, then placing your speakers to get the best results is the next step. We'll go into more detail about getting the best from your speakers in a future blog, but as a rough guide you should be sitting as close to the apex of a triangle as possible, with your two speakers making up the other two points.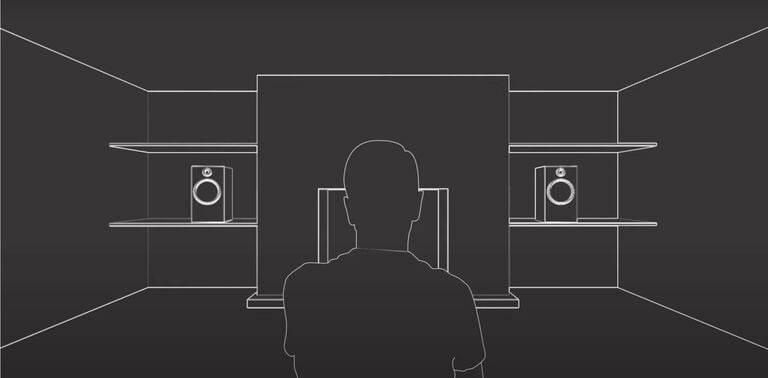 Active or Passive?
As you can imagine, there is more to just choosing a loudspeaker than use case and room size, and one of the more recent decisions you will face would be about choosing an active or a passive loudspeaker. What this means when broken down to its simplest form is: do you want a speaker with an amplifier built in or not? As always, there are pros and cons to both approaches.
At Bowers & Wilkins most of our loudspeakers are passive, which means that you need to have a separate amplifier in your Hi-Fi system. The advantages of this approach are many and varied. For starters, the range of loudspeakers available to you is considerably more varied, with the choice of many more bookshelf and floorstanding options available.
You also get to choose the amplifier that best matches your requirements – maybe a model with streaming built in, or with a phono stage so you can play music from a turntable, or lots of other options.
This 'separates-based' approach also provides you with a future upgrade path, which is one of the joys of building a Hi-Fi system. If in the future you move to a bigger house, then you can upgrade your speakers – for example from bookshelf to floorstanding ones – while keeping the same amplifier. Then maybe when you have some more money you can then upgrade that amplifier… and then the speakers… and so on.
The disadvantage to the passive speaker approach is a simple one: you need an extra piece of equipment in your set-up. This needn't add cost, as you will see below, but it does mean that you will have more to think about and you will need to find room for another piece of kit, which could be an issue if you are looking to fill a relatively small space with great sound.
The alternative is an active loudspeaker, such as the Bowers & Wilkins Formation Duo, a pair of high-performance wireless standmount loudspeakers that set the benchmarks for active, wire-free sound. With cutting edge acoustic technologies and 125 watts of power per unit, they may be the only speaker (and amplifier) you will ever have to buy.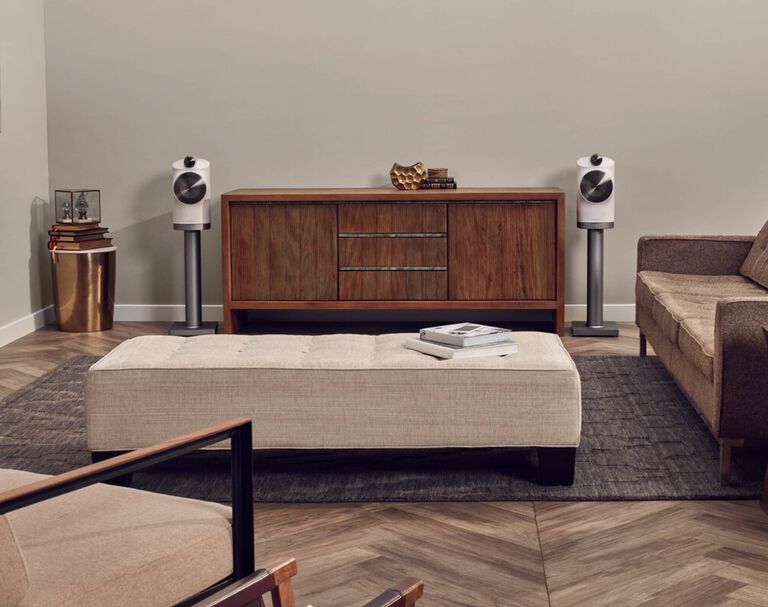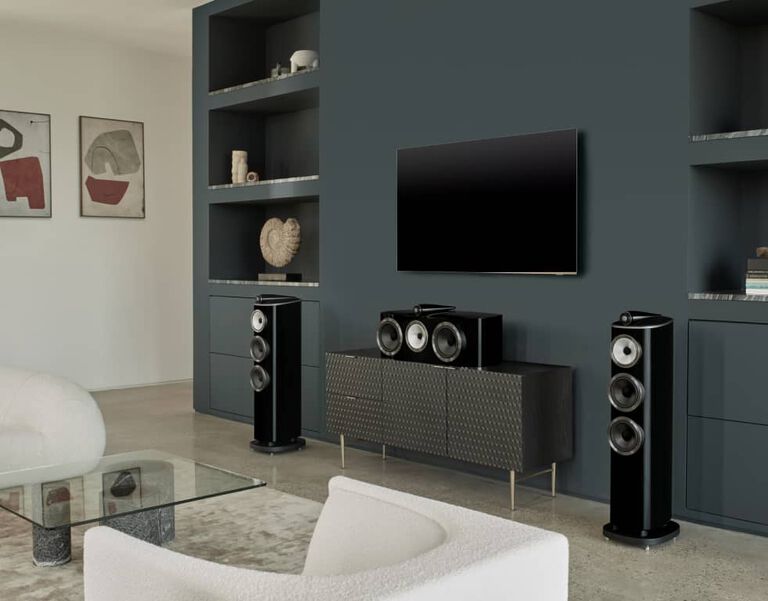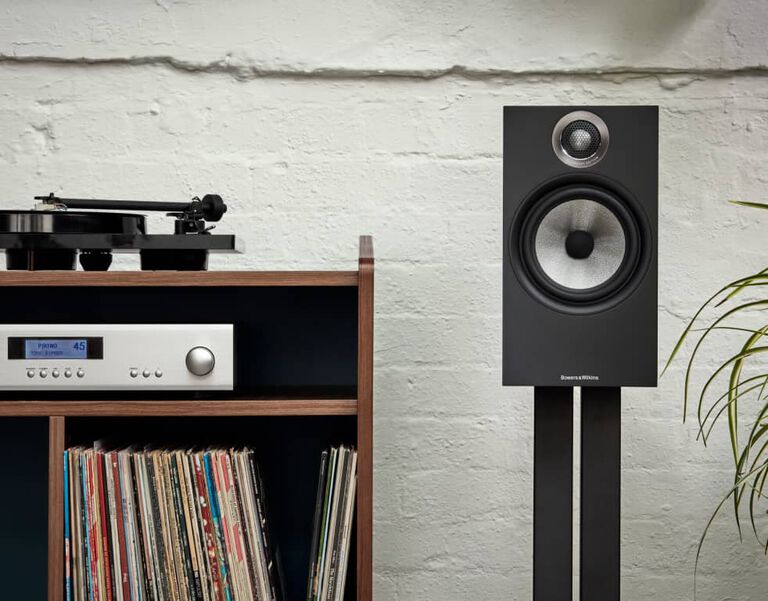 Separates or System?
An even starker version of the passive versus active dilemma is whether you want to build a separates-based Hi-Fi system at all, or if you instead decide to opt for a single speaker that does the lot.
The original Bowers & Wilkins Zeppelin re-wrote the rules of the acoustic performance you could expect from an iPod dock; the latest incarnation does that and so much more. The new Zeppelin is a wireless smart speaker reimagined for the streaming age. Its elegant form combines high-resolution stereo sound with a comprehensive range of smart, connected features and services. As with the Formation Duo, Zeppelin can stream from Apple® AirPlay 2®, Bluetooth aptX™ Adaptive and Spotify Connect – plus the Bowers & Wilkins Music app.
That's a lot from one elegant piece of kit. But as we discussed above, it doesn't give you a clear path to upgrading and expanding as budget, lifestyle and tastes change. However, the beauty of a system such as Zeppelin is that if you do move to that larger house, you can always use it in a different room from your main Hi-Fi and start building your dream system from scratch.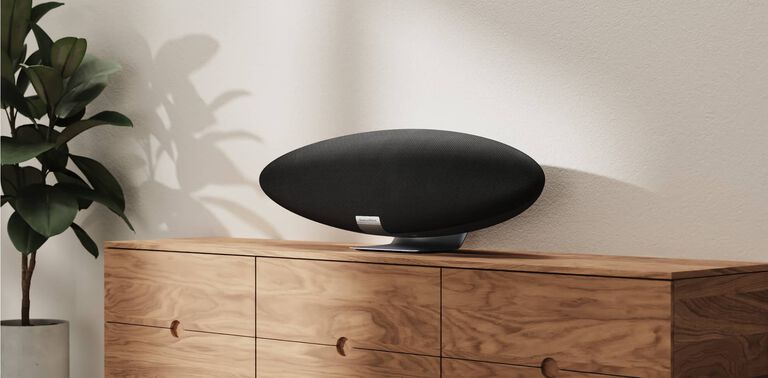 Get some help from your friendly local Hi-Fi dealer
Whether you have already made the key decisions or not, you should look to visit your local Hi-Fi dealership. If you are set on a type of speaker, they will have the range and knowledge to help you select the perfect one from the hundreds of available options. But if you are still considering what's the best approach, then they will be able to talk you through the options and help you decide.
Go pre-armed with the music you love and the dimensions of your room, and of course, your budget. The dimensions of your room will allow your dealer to fine-tune your recommended system to meet your requirements – for example, if you live in a bedsit, you won't want a massive pair of floorstanding loudspeakers – but you may also want to take a few photos of you room on your phone, so your dealer can better understand the space you have available and can advise you on where you want to place your new system.
A Hi-Fi dealer will have test tracks you can listen to with different systems, but it's vital that you take your own demonstration music too. And don't be embarrassed about the music you want to play – ultimately, you'll be the one listening to that music on your system once you get it home.
A good Hi-Fi dealer will also be able to make your money go further, hopefully stretching that budget. And don't be worried if you don't speak the jargon or understand the science – all you want is someone to advise you on the best way you can listen to music with your budget in your home, and they will definitely be able to help you with that.
One last thing…
The final thing to think about when choosing your ideal speakers is simply this: do they bring you joy? Listening to music and watching movies is supposed to be a pleasurable experience – and your Hi-Fi system's only job is to help you experience that pleasure!
Browse some of our related articles